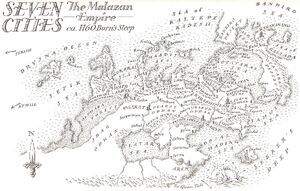 The A'rath Strait connected the Ehrlitan Sea with the Otataral Sea. It also separated the city of Ehrlitan and the A'rath Forest to the southeast from Kansu Reach to the northwest. A cliff ran along its southern shore.[1]
Apsalar left Ehrlitan with Telorast and Curdle and stood on a cliff overlooking the A'rath Strait. In the distance she could see the Kansu Reach. From there, she passed into Shadow to more quickly cross the strait. In Shadow, the water was replaced with a valley of Tiste Edurforest as Curdle predicted. The trees on the hillside where they stood had been toppled by dragons, which Apsalar identified as the dragons "imprisoned within the stone circle" — Ampelas, Eloth, and Kalse.[1]
Passing through the woods, Apsalar could still see echoes of the Malazan world, including a ship overhead. When she came upon the ship's anchor, she climbed its rope up into a ship carrying Ganoes Paran.[2]
Notes and references
[
]