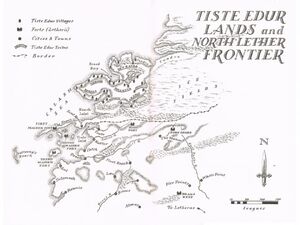 The Den-Ratha were the northernmost of the six tribes of the Tiste Edur.[1] They had been subjugated by the Hiroth during Hannan Mosag's War of Unification. They were notoriously reluctant to venture from their own lands.[1]
Attempting to capture the First Throne, young and newly blooded Den-Ratha warriors were fought off by Trull Sengar, Onrack, Apt, and Minala's Company of Shadow at the behest of Shadowthrone and Cotillion.[2]
Notes and references
Edit
Community content is available under
CC-BY-SA
unless otherwise noted.