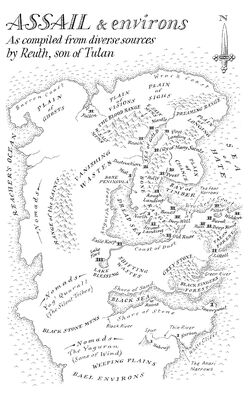 The Fear Narrows was the twisted, rock-choked waterway that connected the Bay of Timber and Sea of Hate to the inland Dread Sea. Only the most skilled of mariners could successfully chart a course through the Guardian Rocks and partially submerged wrecks that marked the Narrows' opening and the deadly gauntlet that followed.[1][2] Once started, a ship's only option was to continue or wreck as either side of the Narrows was marked by tall cliffs. Even ships that made the passage successfully were often so damaged that they were lulled into making directly for the nearby port of Old Ruse for repairs.[3]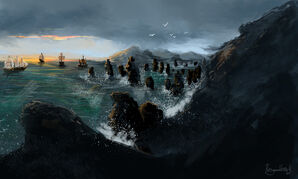 Many of the novel's adventurers seeking their fortune in the gold fields of Assail first had to pass through the hazardous Narrows.
First mentioned was the Confederate pirate Burl Tardin and his vessel, the Sea Strike.[1] Later, Jute Hernan and Ieleen made the same chest-tightening journey aboard the Silver Dawn.[3] Finally, the Ruse-sensitive navigator Reuth led the Lady's Luck past a crowd of foreign ships studying the passage to make their own attempts. Several of the other ships, which included Cartharon Crust aboard the Ragstopper, Timmel Orosenn aboard the Supplicant, and Tyvar Gendarian aboard the Resolute, observed his route and successfully followed his example.[2]
Notes and references
Edit
Community content is available under
CC-BY-SA
unless otherwise noted.