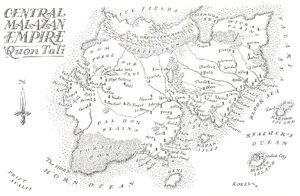 Gerrom was a small market town a league and a half inland from the coast of Itko Kan on Quon Tali. It was located along the Old Kan Road, a pre-Empire thoroughfare.[1] It was described as a small trader town with shabby mudbrick houses and the main street being in effect the town's only street, leading to a T intersection marked by a single two-storey stone building: the Imperial Constabulary. The Constabulary had tin-backed shutters and a huge, heavy banded door, with an iron handle, which opened inward. There was a hitching rail for horses ouside the building. It had at least two rooms on the ground floor - an outer room and a captain's office.[2]
Gerrom was the place where the fishermen from the small fishing village involved in the Itko Kan Massacre sold their catch,[3] so Ganoes Paran was sent there by Adjunct Lorn to follow-up clues. When he arrived, he found the town abandoned. Paran estimated that the flight of the inhabitants had happened no more than a day before his arrival.[2] He found no bodies, other than the occupants of the Constabulary who were all dead within the building. The soldiers in the outer room, which was filled with black pigeons, looked as if they had suffocated. Their captain was dead at his desk in his office.[4]
Notes and references
Edit
Community content is available under
CC-BY-SA
unless otherwise noted.