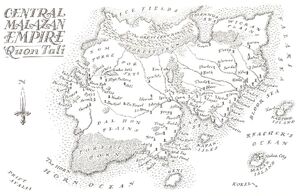 The Idryn river ran from the mountains south of the city of Quon Tali through the north of the Dal Hon Plains and into the Bay of Nap at Cawn.[1] Along its length it ran through the cities of Ipras, Idryb, and Li Heng.
The grey-green river was navigable by boat over much of its length, but the legendary Broke Earth Falls a few days west of Li Heng required portage to pass.[2] These falls may have been the same as Idryn Falls which were a place of pilgrimage to Burn. There the earth was said to be cracked and shifted by the goddess' restlessness and a great spout of water that shot up from the falls' pool was believed to be Burn's very exhalation.[3]
The water was inhabited by giant whiskered fish known as Chodren[4] and crayfish.[5]
Rheena told Dorin Rav that her mother once brought her to Idryn Falls on pilgrimage.[3]
Community content is available under
CC-BY-SA
unless otherwise noted.