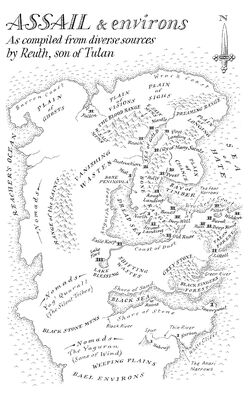 Mantle was a rustic settlement on the northern coast of the Sea of Gold in Assail. It was situated on a broad bay bordered by tall cliffs that ran along the coast. The town itself was a collection of huts and shacks.[1]
Slightly more impressive was the three-story windowless keep that loomed above the town on one of the cliffs. Captain Jute Hernan thought it a "wretched...pile of rock" that would be considered no "more than a border keep back home in Falar".[2] Although crude, it was formed from blocks far larger than any that could be moved by man. The keep could be approached from the town across a defensive ditch or by a rickety set of wooden stairs that led to a dock at the base of the cliff. Chambers carved from the rock provided additional room.[3]
The keep was the home of the town's ruler, King Ronal, and later King Voti.
Mantle was located in the gold fields of Assail, making it an attractive opportunity. It was besieged by the outlander army of fortune hunters led by Marshal Teal and Luthal Canar.[4] It also courted the interest of the Malazan Empire, which sent Malle of Gris and Cartheron Crust to bring the town into the empire's sphere of influence.[5]
Mantle was the site of an attack by the Kerluhm T'lan Imass, who sought to eliminate the natives, who were of Jaghut blood.[6] The outlander siege and the T'lan Imass attack were only ended by the Raising of Phellack in the Salt Mountains that ultimately sent a titanic wave of snow and ice across the region. The majority of natives and the foreign armies were evacuated before the wall reached the town. But Crust and the Malazan defenders stayed behind using Moranth munitions to redirect the flow of ice around the keep, leaving it a bare stone island amid a plain of ice with a narrow channel open to the sea. The rest of the town was scoured from the earth.[7][8]
Notes and references
Edit
Community content is available under
CC-BY-SA
unless otherwise noted.