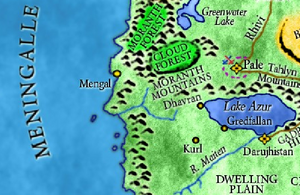 The Mengal Mountains ran as a backbone along the west coast of Genabackis south of Mengal. They were for the most part a dangerous unsettled wilderness. A trader mud track twisted along the inland eastward slope, completely dilapidated and unfit for proper use.[1] It was home to several gangs of bandits who robbed or murdered those who traveled along its trader tracks. Notable gangs included Dernan the Wolf and his army of bandits[2] and Orbern and his relatively smaller band of thieves.[3]
It was also home to a retreat alternately labeled as either a monastery or a school.[4]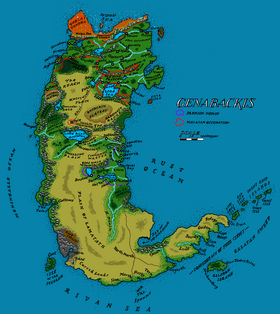 The monastery was home to Traveller after his encounter with Anomander Rake in Darujhistan.[5] The Seguleh, Lo and Sall, journeyed through the mountains to contact Traveller, encountering the gangs of Dernan and Obern along the way.[6][7]
Notes and references
Edit
Community content is available under
CC-BY-SA
unless otherwise noted.