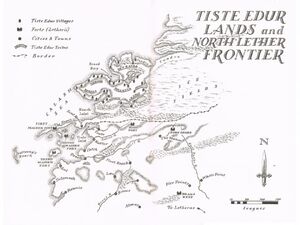 Moss River was located in northwestern Lether. It ran from the mountains north of Fort Shake westward to empty into the Katter Bight at Dresh. Moss Road ran along at least part of its length near the hills of Lookout Climb.[1]
Furry-skinned Moss River eels were smoked and eaten in Dresh.[2]
Emperor Rhulad Sengar of the Tiste Edur brought his army south from Trate crossing the Moss River at the ford town of Ribs. From there they journeyed to First Reach to rendezvous with the army of his brother, Fear, before marching on to Letheras.[1][3]
Notes and references
Edit