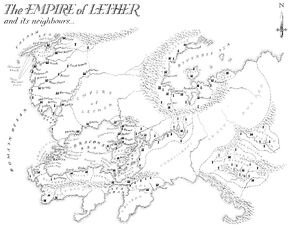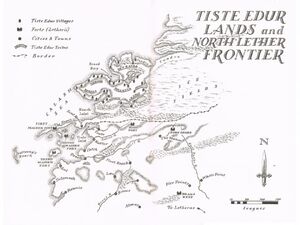 Old Katter, or Katter, was a walled city on the northwestern frontier of the Letherii Empire thirty leagues south of Trate.[1] It was located on the southern shore of the Katter River where it formed a delta into the Katter Bight.[1] The city's tall, thin towers seemed to lean seaward.[1]
Old Katter was home to the Katter Legion.[2]
At the start of hostilities between the Letherii Empire and the Tiste Edur, the Riven Brigade was stationed in Old Katter in addition to the Katter Legion.[2] After Trate fell to the combined land and naval forces of the Edur, Iron Bars, Corlo, and the rest of the Second Blade escaped to Old Katter by warren. They were accompanied by Acquitor Seren Pedac.[1]
After Trate fell, the Edur navies made for Old Katter.[3]
Notes and references
Edit
Community content is available under
CC-BY-SA
unless otherwise noted.