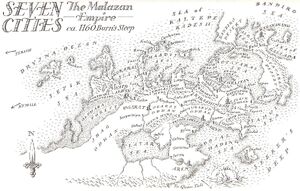 The Pan'potsun Odhan, or waste, was an area west of the holy city of Karashimesh, east of Raraku and north of the Ubaryd Odhan, on the sub-continent of Seven Cities.
It was "a sparsely populated wasteland of dessicated hills, the skeletal ruins of long-dead cities, poisonous snakes, [and] biting flies."[1] But evidence of a rich and thriving long-dead civilization were everywhere. Numerous tels, flat-topped hills built of layers upon layers of cities, could be found throughout the desert. These and other ruins usually showed signs of a violent end.[2]
Natives of the Pan'potsun Odhan were the Arak.[3]
Notes and references
Edit
Community content is available under
CC-BY-SA
unless otherwise noted.