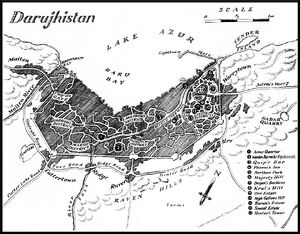 The Phoenix Inn was a popular haunt and drinking den in the Daru district[1] of Darujhistan used regularly by Kruppe and his friends.

It was described as an old building with a poorly lit entrance and yellow light bleeding through dirty windows. The wooden sign which hung above the door, bore the faded image of a bird dead on its back with feet jutting upward. Steps led up to the door which had some kind of railing.[2][3][4]

Upon entering, there was a table near the far wall, beneath a gallery, which was where Kruppe and his friends mostly used to sit. The room also had a bar and drinks might be served in mugs or pewter tankards. The Inn stocked Gredfallan Ale.[5][6] The counter was made of wood and there was a kitchen attached to the main room.[7]
The Inn had at least one upstairs floor with rooms which were occupied either long or short-term by guests.[8]
Crokus Younghand was pursued by unknown Assassins and used the Inn as refuge.[12] The same night, Rallick Nom was met by Ocelot just outside the Inn and went inside after that meeting.[13] Later, during the same night, Kruppe, Murillio and Crokus were playing cards whilst Coll was asleep in a chair. When Rallick, who had slept in a room on the first floor, came down in the morning he found the others still playing.[14]
Kruppe was followed to the Phoenix Inn by Sorry. He stopped at the Inn's doorway seemingly to ask Chert to prevent her from entering behind him. Chert made the mistake of attempting not to simply stop but to sexually assault Sorry, who killed him by stabbing him in the eye, then entered the Inn[15]
Notes and references
Edit
Community content is available under
CC-BY-SA
unless otherwise noted.