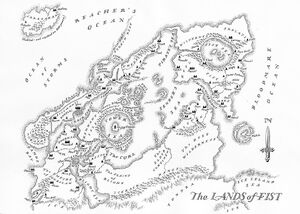 Pon-Ruo was a town located in the southwestern part of the Empire of Jourilan, east of Golk and northeast of Antr.
It was rumoured that the woman known as the Priestess flattened a Jourilan keep outside Pon-Ruo with a wave of her hand after a priest of the Lady denounced her. The apostate, Dust Ebbed of Dourkan, claimed this was not true in their Prison Writings.[1]
Notes and references
Edit
Community content is available under
CC-BY-SA
unless otherwise noted.