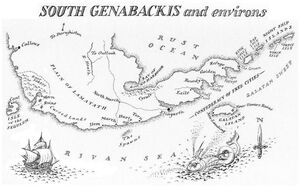 The Rivan Sea lay off the southern coast of Genabackis, stretching from the Isle of the Seguleh in the west to the Confederacy of Free Cities to the east.[1]
When the Tiste Andii fortress Moon's Spawn crashed into the Rivan Sea it created a tidal wave that drowned the Genabackan fishing village of Hurly. The fortress' remnants formed a small chain of islands known as the Spawns, which were combed for riches by an army of treasure-hunters, looters, and scavengers.[2]
Notes and references
Edit
Community content is available under
CC-BY-SA
unless otherwise noted.