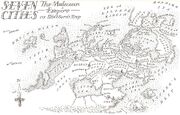 The River Ugarat traveled south across the Ugarat Odhan from the Thalas Mountains to the Clatar Sea. It passed through the cities and towns of Kayhum, Ugarat, Sarpachiya, T'sarech, and Nahal. A ford crossed the river south of Y'Ghatan.[1]
A broad stone bridge crossed the broad river within sight of the northern walls of Ugarat.[2]
Karsa Orlong tested his newly acquired steed, Havok, within sight of Ugarat's northern walls. He raced a score of the city's horsemen to reach the river's bridge a full fifty strides ahead of his pursuers.[2]
Notes and references
Edit