Steven Erikson (born October 7, 1959) is the pseudonym of Steve Rune Lundin, a Canadian novelist, who was educated and trained as both an archaeologist and anthropologist.
His best-known work is the ongoing fantasy series Malazan Book of the Fallen, which by 2006 had sold over 250,000 copies.[1][2] SF Site has called the series "the most significant work of epic fantasy since Donaldson's Chronicles of Thomas Covenant,"[3] and Fantasy Book Review described it as "the best fantasy series of recent times."[4] Fellow fantasy author Stephen Donaldson, refers to Erikson as "an extraordinary writer".[2] In an interview with sffworld.com, Erikson acknowledged that he originally doubted the series would become "mainstream", and was subsequently surprised at how successful the series has been.[5] He also noted how people "either hate the series or love it".[5]
Biography
Edit
Steven Erikson was born in Toronto, Canada, and grew up in Winnipeg.[6] He subsequently lived in the UK with his wife and son[6] before returning to Canada to live in Victoria, B.C. in 2012.[7][8] When Erikson moved to the UK with his English wife in 1995, due to a lack of opportunities in the field of archeology, he worked for a time in the communications department of the Toyota UK head office in Redhill.[9] According to an older interview his role was that of a kind of temp in the communications department and he lived in Dorking at the time.[10]
He is an anthropologist and archaeologist by training and is a graduate of the Iowa Writers' Workshop.[11] For his thesis at the Iowa Writers' Workshop, Erikson wrote a "story cycle" of short stories titled A Ruin of Feathers about an archaeologist in Central America. Subsequently, Erikson received a grant to finish the work which was published by TSAR, a small Canadian publishing house. For his next work Erikson co-won the Anvil Press International 3-Day Novel Contest for which he signed away the rights, a mistake he attributes to inexperience. Erikson's third book was also published by TSAR, and consisted of a novella and short stories titled Revolvo and other Canadian Tales. Later, upon moving to England, Erikson sold what he refers to as his "first real novel" to Hodder and Stoughton — This River Awakens — written when he still lived in Winnipeg. The first four books were published under Erikson's real name, and are currently out of print.[12] In addition to writing, Erikson paints using oil paints.[12]
Malazan Book of the Fallen series
Edit
Conception
Edit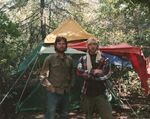 Steven Erikson and Ian Cameron Esslemont first met at an archeological dig at the site of Mud Portage, Ontario, Canada. According to Steven Erikson, they didn't role-play until their second season there, when Cam introduced AD&D. Erikson remembered that they failed at it in "spectacular, drug-induced fashion".[13]
The Malazan world was devised by Erikson and Esslemont initially as a setting for a role-playing game.[14][15] Gardens of the Moon began as a movie script but evolved into a novel, which Erikson completed in 1991-92 but failed to sell.[16]
In the late 1990s, Transworld - a division of Random House - bought Gardens of the Moon and requested Erikson write additional books in the series.[10] Using the history of the Malazan world he created with Esslemont, Erikson plotted nine additional novels. After the publication of Gardens of the Moon, reviews spread via the internet, and Orion publications attempted to lure Erikson away from Transworld. However, Transworld retained an option on additional novels in the series and offered £675,000 for the remaining nine books of the series.[10]
Gods are always messing with mortals in Erikson's work, but the mortals also, by their patterns of belief, create their own gods, their own greater powers. Everything is in flux. Men and women ascend to godhood; gods die or lose their powers.... It's a messy, complicated business, and there are no easy answers, or clear heroes.

—Andrew Leonard writing for Salon.com
[17]
Erikson has stated explicitly that he enjoys playing with and overturning the conventions of fantasy, presenting characters that violate the stereotypes associated with their roles.[5] Erikson deliberately began the Malazan Book of the Fallen series mid-plot rather than beginning with a more conventional narrative.[5][14] Erikson's style of writing includes complex plots with masses of characters. In addition, Erikson has been praised for his willingness to kill central characters when it enhances the plot.[6]
Erikson explained that he changed the terminology he used over the course of writing the series, including for example, that of some units of length. For his full response read his answer to question 37 of the Tor Q&A session[18]
Reception
Edit
Word of mouth is very powerful in fantasy, and the net carries its own energy. It made a huge difference – people were picking [Gardens of the Moon] up from Amsterdam to the US.
Erikson's first novel of the Malazan Book of the Fallen series, Gardens of the Moon (1999), was critically acclaimed. It was short-listed for a World Fantasy Award[1] It has also earned him the reputation as one of the best authors in the fantasy genre.[1], and was described as "An astounding début".[2]The novel was acclaimed for its "combination of originality and intelligent, strong and exciting storytelling".[1] The second book in the series, Deadhouse Gates (2000), was voted one of the ten best fantasy novels of 2000 by SF Site.[19]
During a 2008 question and answer session in Seattle, Washington, Erikson stated he had signed a deal to write two more trilogies and six novellas;[20] Erikson planned to use the novellas to continue the Bauchelain and Korbal Broach storyline[21] while one of the trilogies would be a prequel to the main series, detailing the history of Anomander Rake and Mother Dark.[20] During the same interview, Erikson stated that the upcoming book in the main series, Dust of Dreams (which was released in the United Kingdom August 18th, 2009) would be the first novel to end on a cliffhanger.[22]
Adaptations
Edit
Some of Steven Erikson's poems from the Malazan books have been set to music by Canadian acoustic alt-folk duo October Gold on their album "Bridge of the Sun".[23] It has also inspired a Salt Lake City based Epic Black Metal band called Caladan Brood, formed by a duo dubbing themselves Mortal Sword and Shield Anvil.[24][25]
Bibliography
Edit
As Steven Erikson
Malazan Book of the Fallen series: Novels
Edit
Kharkanas Trilogy
Edit
Witness Trilogy
Edit
Malazan Book of the Fallen series: Novellas
Edit
Malazan Book of the Fallen series: Short Stories
Edit
Non-Malazan
Edit
Novels
Novellas
Non-fiction
Writing Fantasy Heroes: Powerful Advice from the Pros (2013) - contributor
ISBN 9780982053683
As Steve Lundin
Edit
Novels
Short stories and novellas
The Erikson pen name comes from his mother's maiden name.[26]
Erikson prefers writing in public places surrounded by people, and frequently acknowledges the pubs, bars, and cafes where he worked at the front of each book.[27] He wrote the entirety of his science fiction novel, Willful Child: The Search for Spark, in under four weeks while on a writing retreat in Opatija, Croatia. He spent 4 to 5 hours every day writing at an outdoor bar without breaks.[28]
Erikson is a long time fencer and finds the acrobatic sword fighting styles common in fantasy television and movies to be unrealistic and ineffective. Using a fencing epee, he once handily defeated a champion from the Society for Creative Anachronism who was armed with a rapier and parrying blade.[29]
Game developer Bungie approached Erikson to write novels or short stories based on the world of the Destiny video game while it was still early in production. The demands of the property's constantly changing backstory and shifting management teams led Erikson to turn down a $100,000 contract. He did complete a single short story for the project, but it was never published.[30]
In November 2017, Erikson announced plans on his Facebook page to auction off the names of two characters for his upcoming novel, Rejoice, A Knife to the Heart as part of the Worldbuilders charity.
Image Gallery
Edit
External links
Edit
Erikson has painted a number of holiday cards featuring his characters (malazanempire.com membership may be required to view some images).
Interviews
Edit
Audio/Podcast
Edit
Comments attributed to Steven Erikson from book signings and other sources
Edit
The Tor reread
Edit
Other Authors On Steven Erikson and the Malazan series
Edit
Public appearances
Edit
Notes and references
Edit
↑ 1.0 1.1 1.2 1.3 Steven Erikson. booksattransworld. Retrieved on 11 July 2009.
↑ 2.0 2.1 2.2 Steven Erikson. Retrieved on 11 July 2009.
↑ Thompson, William (2004). The SF Site Featured Review: Midnight Tides. The SF Site. Retrieved on 2009-02-22.
↑ House of Chains by Steven Erikson. Fantasy Book Review. Fantasybookreview.com (2008). Retrieved on 10 August 2009.
↑ 5.0 5.1 5.2 5.3 Interview with Steven Erikson. SFFWorld.com (Jan 21 2006). Retrieved on 11 July 2009.
↑ 6.0 6.1 6.2 Steven Erikson biography. Fantasy Book Review. Fantasybookreview.com. Retrieved on 10 August 2009.
↑ 10.0 10.1 10.2 10.3 Moss, Stephen (1999-10-14). Malazans and megabucks. The Guardian. Retrieved on 2009-02-22.
↑ Steven Erikson. Macmillan (2008). Retrieved on 11 July 2009.
↑ 12.0 12.1 Vandermeer, Jeff (2008). Steven Erikson: No Lies, No Holding Back. Clarkesworld Magazine. Retrieved on 31 August 2009.
↑ 14.0 14.1 On the spot at Bookspotcentral: Interview with Steven Erikson. bookspotcentral.com. Retrieved on 11 July 2009.
↑ Leonard, Andrew (2004-06-21). Archaeologist of lost worlds. Salon.com. Retrieved on 2009-02-22.
↑ Steven Erikson (2014) Ask Steven Erikson Your Crippled God Questions!, Tor Blogs, Macmillan, Accessed: 16-12-2014, Available: <http://www.tor.com/blogs/2014/11/steven-erikson-the-crippled-god-q-and-a>, see Steven Erikson's answer to question 37
↑ Steven Erikson interview. Fantasy Book Critic.
↑ Black Gate Magazine video interview (see 25:20)
↑ Black Gate Magazine video interview (see 31:35)