Steven Erikson (born October 7, 1959) is the pseudonym of Steve Rune Lundin, a Canadian novelist, who was educated and trained as both an archaeologist and anthropologist.
His best-known work is the completed ten-book fantasy series Malazan Book of the Fallen, which by 2006 had sold over 250,000 copies.[1][2] SF Site has called the series "the most significant work of epic fantasy since Donaldson's Chronicles of Thomas Covenant,"[3] and Fantasy Book Review described it as "the best fantasy series of recent times."[4] Fellow fantasy author Stephen Donaldson, refers to Erikson as "an extraordinary writer".[2] In an interview with sffworld.com, Erikson acknowledged that he originally doubted the series would become "mainstream", and was subsequently surprised at how successful the series has been.[5] He also noted how people "either hate the series or love it".[5]
Biography
[
]
Steven Erikson was born in Toronto, Canada, and grew up in Winnipeg.[6] He subsequently lived in the UK with his wife and son[6] before returning to Canada to live in Victoria, B.C. in 2012.[7][8]
He is an anthropologist and archaeologist by training, receiving his undergraduate degree in anthropology (with minors in History and Classics)[9] at the University of Manitoba.[10] While at university, he also took courses in fiction writing, and in 1983 he dropped out of a Master's program in archaeology to join the undergraduate Creative Writing program at the University of Victoria.[11] He completed his formal education as a graduate of the prestigious Iowa Writers' Workshop.[12]
For his thesis at Iowa, Erikson wrote a "story cycle" of short stories titled A Ruin of Feathers about an archaeologist in Central America. Subsequently, Erikson received a grant to finish the work which was published by TSAR, a small Canadian publishing house. For his next work Erikson co-won the Anvil Press International 3-Day Novel Contest for which he signed away the rights, a mistake he attributes to inexperience. Erikson's third book was also published by TSAR, and consisted of a novella and short stories titled Revolvo and other Canadian Tales. Later, upon moving to England, Erikson sold what he refers to as his "first real novel" to Hodder and Stoughton — This River Awakens — written when he still lived in Winnipeg. The first four books were published under Erikson's real name, and are currently out of print.[13]
All the while, Erikson continued working as a field archaeologist, specialising in lithics (stone tools) and rock art, and eventually amassing 18 years in the profession.[14] When Erikson moved to the UK with his English wife in 1995, he worked for a time in the communications department of the Toyota UK head office in Redhill[15] due to a lack of opportunities in the field of archaeology.[14] He described his role as that of a kind of temp in the communications department and he lived in Dorking at the time.[16] It was during this time that he decided to make the transition to a writing career.[14]
In addition to writing, Erikson paints using oil paints.[13]
Malazan Book of the Fallen series
[
]
Conception
[
]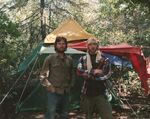 Steven Erikson and Ian Cameron Esslemont first met at an archeological dig at the site of Mud Portage, Ontario, Canada. According to Steven Erikson, they didn't role-play until their second season there, when Cam introduced AD&D. Erikson remembered that they failed at it in "spectacular, drug-induced fashion".[17]
The Malazan world was devised by Erikson and Esslemont initially as a setting for a role-playing game.[18][19] Gardens of the Moon began as a movie script but evolved into a novel, which Erikson completed in 1991-92 but failed to sell.[20]
In the late 1990s, Transworld - a division of Random House - bought Gardens of the Moon and requested Erikson write additional books in the series.[16] Using the history of the Malazan world he created with Esslemont, Erikson plotted nine additional novels. After the publication of Gardens of the Moon, reviews spread via the internet, and Orion publications attempted to lure Erikson away from Transworld. However, Transworld retained an option on additional novels in the series and offered £675,000 for the remaining nine books of the series.[16]
Style
[
]
Gods are always messing with mortals in Erikson's work, but the mortals also, by their patterns of belief, create their own gods, their own greater powers. Everything is in flux. Men and women ascend to godhood; gods die or lose their powers.... It's a messy, complicated business, and there are no easy answers, or clear heroes.

—Andrew Leonard writing for Salon.com
[21]
Erikson has stated explicitly that he enjoys playing with and overturning the conventions of fantasy, presenting characters that violate the stereotypes associated with their roles.[5] Erikson deliberately began the Malazan Book of the Fallen series mid-plot rather than beginning with a more conventional narrative.[5][18] Erikson's style of writing includes complex plots with masses of characters. In addition, Erikson has been praised for his willingness to kill central characters when it enhances the plot.[6]
Erikson explained that he changed the terminology he used over the course of writing the series, including for example, that of some units of length. For his full response read his answer to question 37 of the Tor Q&A session[22]
Reception
[
]
Word of mouth is very powerful in fantasy, and the net carries its own energy. It made a huge difference – people were picking [Gardens of the Moon] up from Amsterdam to the US.
Erikson's first novel of the Malazan Book of the Fallen series, Gardens of the Moon (1999), was critically acclaimed. It was short-listed for a World Fantasy Award.[1] It has also earned him the reputation as one of the best authors in the fantasy genre,[1] and was described as "An astounding début".[2] The novel was acclaimed for its "combination of originality and intelligent, strong and exciting storytelling".[1] The second book in the series, Deadhouse Gates (2000), was voted one of the ten best fantasy novels of 2000 by SF Site.[23]
During a 2008 question and answer session in Seattle, Washington, Erikson stated he had signed a deal to write two more trilogies and six novellas.[24] Erikson planned to use the novellas to continue the Bauchelain and Korbal Broach storyline,[25] while one of the trilogies would be a prequel to the main series detailing the history of Anomander Rake and Mother Dark.[24] During the same interview, Erikson stated that the upcoming book in the main series, Dust of Dreams (which was released in the United Kingdom August 18th, 2009) would be the first novel to end on a cliffhanger.[26]
Adaptations
[
]
Some of Steven Erikson's poems from the Malazan books have been set to music by Canadian acoustic alt-folk duo October Gold on their album "Bridge of the Sun".[27] It has also inspired a Salt Lake City based Epic Black Metal band called Caladan Brood, formed by a duo dubbing themselves Mortal Sword and Shield Anvil.[28][29]
Bibliography
[
]
As Steven Erikson
Malazan Book of the Fallen series: Novels
[
]
Kharkanas Trilogy
[
]
Witness Trilogy
[
]
Book 2 (TBD)
Book 3 (TBD)
Malazan Book of the Fallen series: Novellas
[
]
Malazan Book of the Fallen series: Short Stories
[
]
Non-Malazan
[
]
Novels
Novellas
Short Stories
Non-fiction
Writing Fantasy Heroes: Powerful Advice from the Pros (2013) - contributor
ISBN 9780982053683
Poetry
As Steve Lundin
[
]
Novels
Short stories and novellas
Trivia
[
]
The Erikson pen name comes from his mother's maiden name.[30] He started using it for his fantasy writing at the request of his original non-fantasy publisher who feared confusing his audience. Erikson chose the name to honour his late mother, a prolific reader who never got to read his published work.[31]
Erikson cites Stephen Donaldson and Glen Cook as his major influences within fantasy fiction.[32] His interest in fantasy was always in the sword and sorcery sub-genre embodied by Robert E. Howard, Fritz Leiber, and Karl Edward Wagner rather than the epic fantasy of J. R. R. Tolkien.[33] He also cites Frank Herbert's Dune as an inspiration for dropping a reader into a story and forcing them to tread water for quite some time before they are able to piece together the story. The "structure of Gardens of the Moon is ripped off straight from Dune."[34]
Erikson prefers writing in public places surrounded by people, and frequently acknowledges the pubs, bars, and cafes where he worked at the front of each book.[35] He wrote the entirety of his science fiction novel, Willful Child: The Search for Spark, in under four weeks while on a writing retreat in Opatija, Croatia. He spent 4 to 5 hours every day writing at an outdoor bar without breaks.[36]
Erikson describes himself as a "linear writer...I start on page one and I end up on the last page". He does not "like to insert text in blocks that I've already written because to me it puts at risk the...internal rhythms and pacing that has already been there, that has already been set up the first time around." Once the writing is complete, he will make editing changes such as word choices, but he is "very nervous about cutting and pasting" and moving blocks of text around. "It feels dangerous to mess with it once I've got that first draft down."[37]
Of his fellow Malazan creator, Ian C. Esslemont, Erikson says, "quite often my audience in my own mind was an audience of one--and that was Cam...A lot of the jokes, a lot of the humour--there's a lot of in-stuff, in-jokes that occur which are only for Cam, and vice versa."[38]
Erikson and Esslemont usually meet once a year at the International Conference on the Fantastic Arts in Orlando, Florida to coordinate details in their books. According to Erikson, the two authors "hang out by the pool, and get drunk, and talk about what we're working on. So we work through some stories there...Often I don't see [Esslemont's] manuscript until the book's been published."[39]
Erikson and Esslemont first collaborated as writing partners on a series of feature film screenplays. Their first was an "archaeology horror comedy" called Midnight's Son, whose two main characters were essentially analogues for the authors themselves. The plot involved an archaeological dig on an island of the east coast of Canada which turned up a Viking killing field. The script was purchased by a film producer, but never made. The second and third scripts were Magic realist comedies, one of which was optioned twice. One of these scripts was called "Lawn Maintenance and the Primordial Soup". The fourth script was Gardens of the Moon, which was inspired by their role-playing hobby and formed the basis for the eventual novel of the same name. Another script was Blackdog Blues, which covered Whiskeyjack and the Bridgeburners at Blackdog Swamp.[40][41]
Although never a soldier himself, Erikson attributes some of his experiences as an archaeologist to his ability to faithfully capture the feel of soldiers at war. Field work often involved being isolated with small groups of people in otherwise difficult and unpopulated environments. "Bush fever" once caused one of his coworkers to attack him with a hatchet "because I said the wrong thing at the wrong time." After a dig in Belize in 1983, Erikson visited Honduras, Nicaragua, and Guatemala. Guatemala was in the midst of a civil war and Erikson was witness to its brutality before he could find his way back to Belize.[42]
Erikson is a long time fencer and finds the acrobatic sword fighting styles common in fantasy television and movies to be unrealistic and ineffective. Using a fencing epee, he once handily defeated a champion from the Society for Creative Anachronism who was armed with a rapier and parrying blade.[43] After starting fencing when he was eighteen, he finally had to give it up in the 2010s after tearing a hamstring.[44]
Erikson once wrote a script for the television series, Star Trek: The Next Generation, but it was ultimately rejected. He summarised the plot as:
"A giant last surviving alien in a sleeper ship over a dead planet. Enterprise inadvertently awakens him. In so doing, the alien informs them that he represents a flytrap for an old enemy, who's now on the way. On the planet below, cities rise from beneath earth, revealing a vast thriving civilization. The old enemy appears -- the Doomsday machine. Picard and co beg the alien to save the planet below, but the planet is the honey in the trap, and the planet-killer must be in the act of destroying it for the alien to strike at its heart, which he does. Picard rails against the terrible loss: only to discover that the civilization is a chimera -- not real. The alien sacrifices himself destroying the planet-killer."[45]
Game developer Bungie approached Erikson to write novels or short stories based on the world of the Destiny video game while it was still early in production. The demands of the property's constantly changing backstory and shifting management teams led Erikson to turn down a $100,000 contract. He did complete a single short story for the project, but it was never published.[46]
In November 2017, Erikson announced plans on his Facebook page to auction off the names of two characters for his upcoming novel, Rejoice, A Knife to the Heart as part of the Worldbuilders charity.
Erikson enjoys drawing and painting. Before getting into writing, he wanted to be a comic book artist. But his slow pace meant he had to look for a different way to tell stories.[47] Growing up, some of his favourite comic books included Weird War Tales and The Haunted Tank.[48]
During a stop on a 2018 book tour, Erikson stayed in a converted monastery outside Paris. In the backyard having a cigarette, he discovered flint Neanderthal tools (a Levallois core and end scraper) over a quarter of a million years old on the ground.[49][50] Pictures and an essay about the find can be found here.
In an April 2020 interview, Erikson said he had recently pitched a science fiction television series called The Shear alongside author Bennett R. Coles. As part of the pitch, they produced a feature length pilot script.[51] The pitch was not picked up, and in May 2020 Erikson reported that he and Coles planned to raise funds through Patreon and publish the story as a webcomic.[52]
Erikson went to the same Winnipeg high school as fantasy author Guy Gavriel Kay, although they did not know each other. Erikson's older brother was one of Kay's classmates.[53]
Erikson's parents were originally from Sweden and his father was a chef with his own television cooking show in Winnipeg in the late 1960s. The same studio produced a ventriloquist show that attracted visiting puppeteers. According to Erikson family lore, a young Jim Henson visited the studio and witnessed one of Erikson's father's live shows. His father's thick Swedish accent, mustache, and chef outfit led the family to believe that he may have been the inspiration for Henson's Muppet character, the Swedish Chef.[54]
Erikson does not like to go back and reread his work, and has never reread the entirety of the Malazan Book of the Fallen since it was originally written. At times, he has had reread parts of books or chapters to prepare for current projects, but he finds the process can be intimidating. "I don't know if I'm as good a writer now as I was then...I was really, I guess, creatively on fire...Maybe parts of that fire have burned out. I'm very leery of going back to stuff I've written because that may well have been the peak or the prime of my writing abilities...It's been strange of late to be talking about books that I wrote twenty or thirty years ago because it does feel like that was some other person who wrote that stuff. Certainly wasn't me." One exception was the Kharkanas Trilogy where he reread the entirety of Forge of Darkness and Fall of Light to prepare for Walk in Shadow after a long hiatus. "There was a lot going on there linguistically that I had to sort of try to recapture: the rhythms, the patterns, and sentence structure, all that kind of stuff. It's a very stylised trilogy. So I literally forced myself to go back and read them."[55]
Erikson has a long simmering idea for a "fun" historical fiction story called "The Last Vandals on Earth". It would feature the last six members of the historical Vandal tribe "on the run fleeing desert tribes...heading towards Jerusalem." He says it would be "a comic, dark kind of novel" whose characters would consist of a squad "halfway between Malazan Marines and [the] Trygalle Trade Guild." He already has one chapter completed, but has lost track of it over the years.[56]
Image Gallery
[
]
External links
[
]
Essays
[
]
Note: Some links my require Facebook membership.
Art
[
]
Erikson has painted a number of holiday cards featuring his characters (malazanempire.com membership may be required to view some images).
Other Digital and Painted Works
Interviews
[
]
Print
[
]
Video
[
]
Audio/Podcast
[
]
Comments attributed to Steven Erikson from book signings and other sources
[
]
The Tor reread
[
]
(Note to editors: Do NOT copy from TOR reread to the Wiki)
Other Authors On Steven Erikson and the Malazan series
[
]
Public appearances
[
]
Guest of Honour at Fantasycon 2005 30 September - 2 October 2005 (Walsall, UK)
Book Reading and Q&A at University Bookstore 2008 (Seattle, Washington, US)
Killing Significant Characters Panelist at World Fantasy Convention 2008 with George R. R. Martin and Tad Williams (Calgary, Canada)
Guest at Fantasycon 2009 18-20 September 2009 (Nottingham, UK)
Guest of Honour at Liburnicon 2012 (Opatija, Croatia)
Guest of Honor at ICON 37 2-4 November 2012 (Cedar Rapids, IA)
Guest at the 2013 Celsius 232 Festival (Avilés, Spain)
Guest at Ad Astra 4-6 April 2014 (Richmond Hill, Ontario, Canada)
Guest at Kepler's Books Sci Fi/Fantasy Day 2014 (Menlo Park, California, US)
Guest at the 2015 Emerald City Comic Con (Seattle, Washington, US)
Guest at MisCon 29 22-25 May 2015 (Missoula, Montana, US)
Guest of Honour at the 2015 World Fantasy Convention (Saratoga Springs, New York, US)
Guest at Lucca Comics and Games 2016 28 October - 1 November 2016 (Lucca, Italy) (in Italian)
Guest at Belgrade Comic Con (Beokon) 4-6 November, 2016 (Belgrade, Serbia)
Guest of Honour at the International Conference on the Fantastic in the Arts March 2017 (Orlando, Florida, US)
Guest at Hal-Con 2017 (Halifax, Nova Scotia, Canada)
Guest of Honour at Can-Con 2017 (Ottawa, Canada)
Attended International Conference on the Fantastic in the Arts March 2018 (Orlando, Florida, US)[57]
Attended BC Book Day 23 April 2018 (Victoria, BC, Canada)
Guest at Les Imaginales 2018[58] 24-27 May 2018 (Epinal, France)
Literature Guest of Honour at Liburnicon 17-19 August 2018 (Opatija, Croatia)
Guest at Comic Con Portugal 6-9 September 2018 (Lisbon, Portugal)
Guest at VCON 42 6 October 2018 (Vancouver, Canada)
An Evening with Steven Erikson at McNally Robinson Booksellers 18 October 2018 (Winnipeg, Canada)
Guest at MCM Comic Con 26-28 October 2018 (London, UK)
Guest at Utopiales 2018 31 October - 4 November 2018 (Nantes, France)
Attended International Conference on the Fantastic in the Arts 13-16 March 2019 (Orlando, Florida, US)[59]
Guest at Hong Kong Book Fair 2019 - conducted Anthropology in World-Building seminar - 18 July 2019 (Hong Kong)
Guest at Worldcon 77 Dublin 2019 15-19 August 2019 (Dublin, Ireland)
Attended International Conference on the Fantastic in the Arts 13-16 March 2022 (Orlando, Florida, US)
Guest at Les Imaginales 2022 19-22 May 2022 (Epinal, France)
Guest at Librairie Legendarium 24 May 2022 (Arras, France)[60]
Guest at Librairie L'Imaginaute 27 May 2022 (Tours, France)[60]
Guest at Bordeaux Geekfest 2022 28-29 May 2022 (Bordeaux, France)
Guest at Librairie Critic 1 June 2022 (Rennes,France)[60]
Guest at Festival Etonnants Voyageurs 2022 4-6 June 2022 (Saint-Malo, France)
Guest at Librairie Actes Sud 14 June 2022 (Arles, France)[60]
Guest at Librairie L'Antre de Calliopée 15 June 2022 (Aix-en-Provence, France)[60]
Guest at Librairie Bédéciné 16 June 2022 (Toulouse, France)[60]
Guest at FNAC Montparnasse 18 June 2022 (Paris, France)[60]
Wikis
[
]
Notes and references
[
]