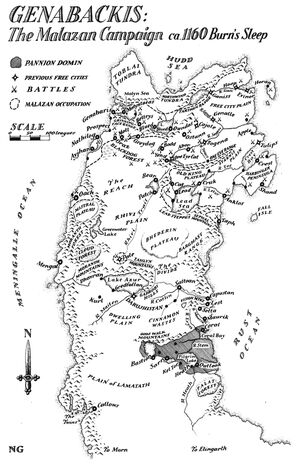 The Tahlyn Mountains was a range found directly south of Pale, separating the city from Lake Azure. Its jagged peaks could also be seen from Darujhistan which lay on the southern shore of Lake Azur.[1]
Looking south from Pale, the Moranth Mountains coming down and across from the north, joined with the Tahlyn Mountains in a jagged line which stretched a thousand leagues eastwards.[2]
A large forest was located on the eastern side of the Tahlyn Mountain range.[3]
The eastern foothills of the range were referred to as East Tahlyn Hills or simply Tahlyn Hills.[4][5]
Moon's Spawn was seen travelling from Pale towards the Tahlyn Mountains.[6]
Whilst crossing the Mountains by Quorl overnight, Whiskeyjack and his squad were caught in a violent thunderstorm.[7]
Paran and Toc the Younger found a woodcutter's trail through the Tahlyn Forest.[8]
The trails in the East Tahlyn Hills saw an increase in smuggler activity after soldiers of Dujek Onearm's renegade army began taxing traffic through The Divide. Munug was stopped along one of these trails by Picker and Blend who were on patrol. After being searched and dismissed, Munug made his way down a few tracks then left the hills via Warren.[9]
Fist K'ess had Barghast scouts stationed in the eastward foothills of the Tahlyn range.[10]
Notes and references
Edit
Community content is available under
CC-BY-SA
unless otherwise noted.