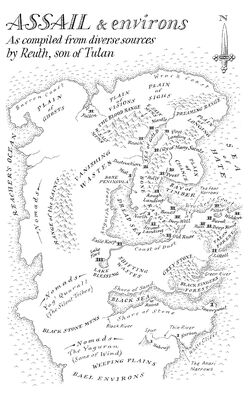 The Vanishing Wastes on Assail were bounded by the Dread Sea to the east, the Blood Range to the northeast, and the Range of the Saints to the west. The plain was also known as the Vanishing Lands and the Lands of Dust,[1] and it was said that any who ventured onto the plains were never seen again.[2]
It was a broad desert plain of dwarf trees, lichens, and brittle brush with only a scattering of clumped grass and tiny wildflowers.[1] Clouds blocked the sun, but did not release any rain, leaving the air frigid and dry.[1] At night, winds buffeted travelers, exposing the bones of those who failed to make the crossing, their bodies buried under continuously shifting dunes of earth.[3]
(Information needed)
Notes and references
Edit
Community content is available under
CC-BY-SA
unless otherwise noted.