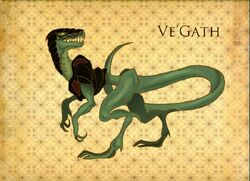 The Ve'Gath were the "true" soldiers of the K'Chain Che'Malle. The Ve'Gath were roughly twice the size of a human and had "fanged snouts" which, along with their jaw lines, gave them the appearance of having "ghastly grins". If necessary, Ve'Gath - like the rest of the K'Chain Che'Malle - could make drastic changes[1] to physical and/or physiological aspects of their bodies. Giving birth to Ve'Gath, in particular, caused a K'Chain Che'Malle Matron great pain and loss of blood, so that a Matron would normally not produce more than about one hundred Ve'Gath - especially in times of peace.[2]
As a sign that Gunth'an Acyl, the Matron of Acyl Nest of Ampelas Rooted, believed strongly that a war was imminent, she had been producing an extraordinary number of Ve'Gath - ten to twenty thousand of them - causing her to experience continuous, extreme agony which had driven her insane.[3]
Notes and references
Edit
Community content is available under
CC-BY-SA
unless otherwise noted.